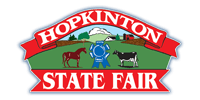 Hopkinton State Fair – Exhibitors
September 2nd to 6th, 2021
TABLE OF CONTENTS
Entry Deadline for AG  – August 5, 2021

***NEW*** Animal Arrival Times
Wednesday, September 1, 2021 4:00pm – 9:00PM
Thursday, September 2, 2021 7:00 AM – 3:00 PM
Exception of poultry and rabbit which must be penned between 12:00 noon and 7:00 PM on Wednesday.
If you earn $600 dollars or more in premiums we need a W-9 Form completed before we can pay you.

HOPKINTON STATE FAIR IS A NON-PROFIT 501c
Your support is greatly appreciated!